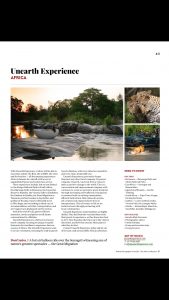 It's an absolute privilige to be included in this years prestigious Africa Collection of National Geographic Traveller Magazine. If you are a member of National Geographic you can check it out on their website, otherwise here is the excerpt from the magazine.
National Geographic UK: Unearth Experience
This trip is not any trip. It's the perfect trip. It's a trip to Africa, and our clients get to see it all. The safaris, the animals, the cities, the sea, they do all the things they've read about doing in Africa, with all the luxury they've heard about having there. Whether they're travelling to the Kruger National Park in South Africa, the Okavango Delta in Botswana, the Sossosvlei Desert in Namibia, the Victoria Falls in Zimbabwe, the Zambezi in Zambia, the Great Migration in Tanzania, the pristine beaches in Seychelles, or the Gorilla's in Rwanda, they barely need to lift a finger because it's already planned out: accommodations, activities, transportation, support available 24/7 because, really, this is the best way to travel. And at the end of it all, we want our guests to have memories, stories and photos to fill dinner conversations for a lifetime.
Unearth Experience is a full-service luxury travel company, focusing on unique, bespoke itineraries for travellers to experience the true essence of Africa. The Unearth Experience team is deeply service-orientated, ensuring the road our guests travel is flawless, with every detail accounted for and every step a memorable one.
Unearth Experience goes much deeper than just any other travel company. With what started as a vision to make a positive change in this world, our parent company, Unearth was born. A conservation & empowerment company with a mission to create an extensive conservation footprint by developing self-sufficient, bioregional economies built on uniting communities, efficient land reform, film-induced tourism, job creation and empowerment of local entrepreneurs. This all comes to life on an inclusive broad-based basis, partnering with the communities 50/50.
We believe that the wilderness of Africa and its people are brimming with an evolution waiting to be realized and it is our mission to help this potential come to fruition. Unearth Experience will be the vehicle to drive tourism into this wild and beautiful land.
We are luxury. We are boutique. We are unique. We are at your service and we have style. African style, to show you how to be where you are. We are trained. We are skilled. And we are from the land we invite you to see, so we know how best to see it. We are fun. How we plan is, well, up to you. How we execute is what we do best.
Contact Unearth Experience today and let us craft your incredible African adventure.
Location: Johannesburg, Gauteng, Sub Saharan Africa, South Africa
Key Treatments:
Okavango Delta
Serengeti & Maasai Mara
South Africa
Zambia
Islands
Facilities List:
Handcrafted Itineraries
Photographic Safaris
Family Holidays
Group & Incentive Trips
Honeymooners
Contact Information:
Website: www.unearthexperience.com
Telephone: +27-79-765-9287
Email: info@unearthexperience.com
Don't Miss:
A hot air balloon ride over the Serengeti Plains witnessing nature's greatest spectacle – The Great Migration